Research Instruments Center HP Welcome to our site ! 
Policy
Concept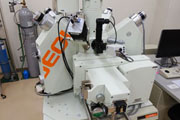 We will contribute to the promotion of research and education of faculty, students, and non-members at Okayama University of Science by utilizing the latest research equipment.

・We will install state-of-the-art research equipment, perform sufficient maintenance and inspections, and maintain it in the best condition.

・We will allow students as well as faculty members to use the equipment and contribute to education through voluntary use of research equipment and understanding of the principles.

・Part of the maintenance and repair will be carried out with the participation of students and faculty members to deepen the understanding of the operating principle of research equipment and create a soil where you can challenge the improvement and creation of equipment.

・We will introduce cutting-edge research equipment and endeavor to understand state-of-the-art scientific equipment for students, faculty, staff and members of society both inside and outside the university.

・We will issue "Center News" every other year to introduce the equipment and disclose the equipment usage survey, research results, etc. inside and outside the university.
Information is being sent on Twitter and Facebook

Sending the latest information of the center on Twitter and Facebook.